NFT maker apps continue to emerge as NFTs increase in popularity. You might want to hop on the craze by making some NFTs yourself. We've created a list of some of the best apps available on iOS and Android phones.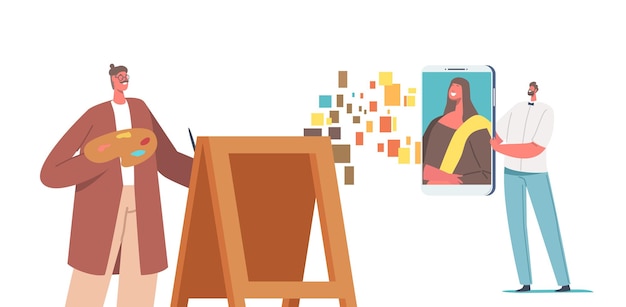 GoArt
GoArt can be used when you already have an image you want to customise. You can filter different types of art ranging from Van Gogh to pointillism. Once you've created the NFT, you can save it onto your phone. You can also do it the other way around by uploading photos from your phone then turning them into an NFT.
In order to use premium filters on this app, you need 'coins'. You're given 30 coins after signing up with the app. To earn more coins, invite friends to the platform or share it on social media.
Sketchar
You can create art and sell it directly from the Sketchar app. However, it's important to note that the app You can create art and sell it directly from the Sketchar app. However, it's important to note that the app will take 5% off your first sale, then 1% off all the rest. As the app has its own marketplace, you can also buy NFTs from other users.
NFT Creator
With NFT Creator, you can make high-quality NFT art without having any graphic design experience. There are a lot of customisation options available, making it also suitable for those who are highly skilled. A great feature of the app is that it has great templates for making NFTs. For instance, you can make trading cards of your choice. NFT Creator has its own marketplace where you can buy and even win NFTs.
Pixelchain
This app creates NFTs in the style of a pixeled image. There are 3 parts involved in making an NFT with Pixelchain:
Create your art
Mint your artwork on the Ethereum blockchain
Sell your art on the OpenSea platform
Once minted, all the image data will be encoded, compressed and sent to the blockchain. Here, it's stored with its author information and name.
SuperMe
SuperMe is an app where you can design your own cartoon avatars. The avatar can be downloaded onto your phone and minted into an NFT.
8bit Painter
One of the best pixel-style apps is 8bit Painter. After signing up, you can choose the size of your canvas. Sizes range from 16×16 to 160×160 pixels. 8bit Painter also allows you to import and turn your photos or other NFTs into pixel art.
Token.art
Token.art supports over 30 fiat currencies and hundreds of thousands of NFT collections. Because of this, Token.art is referred to as a multi-blockchain, multi-address NFT portfolio viewer.
Creating an NFT is just one step of becoming an NFT creator. Once you've made your art, make sure you mint it. Then, you have the option to sell at a marketplace.